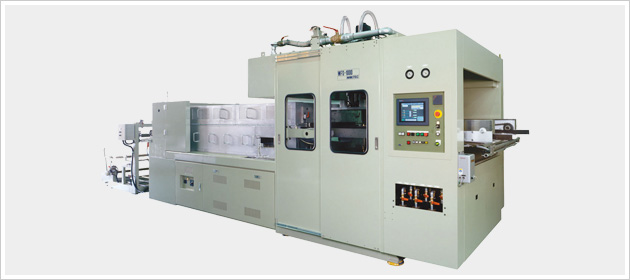 Features
1.Considerable energy savings and outstanding thermal efficiency
The use of a medium wave infrared radiator enables the heat treatment to spread uniformly throughout the sheet. This also speeds up the manufacturing process.
A box type heater minimizes heat loss, realizing outstanding heat efficiency.
2.High precision mechanism for forming products
Center molding method eliminates unbalanced load in mold feed litting mechanism, maintaining precision after ling use.
The servo motor and boll screws operate the mold feed litting mechanism, the data for the stopping position and speed are stored along with the setting conditions.
3.Dramatic reduction in mold changing time
Mold setting device with a center molding method realizes accurate reproduction and makes mold changing simple.
Sheet clamp mechanism around the mold can be flexibty set and require no replacement.
4.Space saving design
Other electrical devices, including an operating panel and a control panel are built into the machine which takes up little space and allows for smooth changing of molds.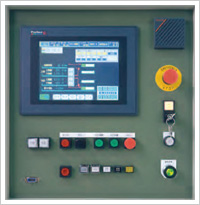 Touch-screen LCD display
All the settings for mold stopping position, timer and temperature can be done by simply touching the LCD display.
Without using an IC card or floppy disc, all the data on the setting conditions can be saved onto a hard disc, which can store as many as 200 kinds of forming conditions and be printed out.
Option
Shear machine
Vacuum pump
Spec
WFS-1000 (WFS-800)
Forming area
MAX
1000mm[W]×1100mm[F](800mm×900mm)
MIN
600mm[W]×600mm[F](500mm×500mm)
Max.Height of forms
120mm
Sheet width
1050mm[MAX](850mm)
Table Stroke
Upper
220mm[MAX]
Lower
250mm[MAX]
Table Open height
Upper
120~340mm
Lower
120~370mm
Heater
Upper
63KW(53KW)
Lower
50KW(32KW)
Drawing